L5 Foundation is focused on helping people at the most vulnerable times in their lives—and helping to relieve the emotional and financial burdens that can occur anytime to anyone.
L5 Foundation's five core values are:
The Faith to BelieveThe Hope to Endure
The Determination to Overcome
The Strength to Survive
The Passion to Win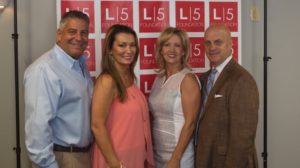 L5 Foundation raises and distribute money to organizations that provide real results. Their broad fundraising activities, events, and support of corporate, foundation, and individual donors allows them to fulfill their mission. We are happy to be a corporate donor.
L5 is working toward a time when no cancer patient will ever have to wonder – after they have made it through all their surgeries and all their chemotherapy and radiation treatments – if they will have to life in a day-to-day struggle or leave behind a mountain of debt for their families to have to manage.
L5 Foundation's current portfolio includes: L5 Cancer Support, dedicated to addressing the essential and basic needs of cancer patients; and The Chairman's Club, which provides grants to youth sports organizations, youth arts and culture clubs, youth education groups, youth health care associations, and more.
We encourage you to check out the the L5 Foundation.